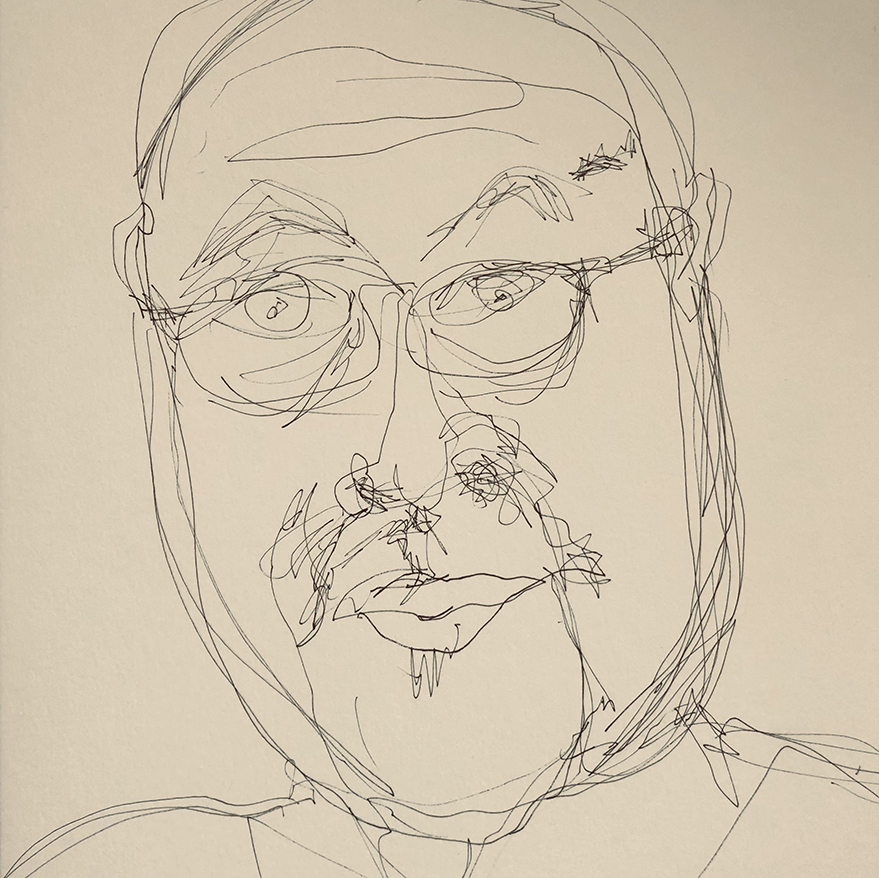 On the 5th day, he drew a drawing. Sometimes its refreshing to go back to what was once familiar and comfortable, even if it now feels a little bit strange and awkward. With the increase of digital methods of making art, the beloved tablet and pen at the top of the list along with the 'old' digital camera that allows for endless experimentation without consideration of cost (has its drawbacks creatively, but generally positive in my own experience), it is so easy to not get your hands dirty in a very literal way. Those years of living in clouds of chalk dust and charcoal stains all over the place are long gone, except when sentimentality strikes.
And now it has! I decided to try a portrait with pen on paper, just referring to a mirror and doing so more than looking at the paper. Not quite the old training exercise of drawing without looking at the paper at all, but in that direction. Its a simple drawing, fit for purpose but probably has no enormous value style wise or artistically. If anyone is enchanted though, please feel free to make a bid - free postage within the EU!
Along with years of collected art supplies for almost any whim, I also have quite a few books from different periods of life, some of which I have not read. When I was doing my coaching degree, this was a very strong point of division in the class, the wickedness or sense of buying books without reading them! Personally, I think that books have a life of their own (not in the Jasper Fford sense - worth checking out the brilliant Tuesday Next series), but a time at which they will fit to our needs and offer their best. That may be some 25 years after you bought it, but they generally just stay on the shelf (or get shipped off to the other side of the world to yet another shelf).
So, I've been drawn back to Sun Tzu's The Art Of Strategy, a translation of the classic The Art Of War. Some intuition leads me to it, and I think there might be some very helpful information in there for coaching, for art, for moving onwards.